Name(English): Tsim Sha Tsui Promenade
Name(Chinese): 尖沙咀海濱
Category: Major Attraction
Address(English): Tsim Sha Tsui Promenade, Tsim Sha Tsui
Address(Chinese): 尖沙咀海濱公園
Address Google Map Link: https://goo.gl/maps/VJ3W255dDwJH4Cti6
Address longitude and latitude: 22.29718094680943, 114.17807289860828
Nearest MTR Station: East Tsim Sha Tsui MTR station exit J
Nearest MTR Station Google Map Link: https://goo.gl/maps/iprEyWH4vdPpfrg68
Nearest MTR Station longitude and latitude: 22.2952382332386, 114.17430942195777
How far from the nearest MTR Station: 5 mins from East Tsim Sha Tsui MTR station
Opening hours:
MON 00:00 – 23:59
TUE 00:00 – 23:59
WED 00:00 – 23:59
THU 00:00 – 23:59
FRI 00:00 – 23:59
SAT 00:00 – 23:59
SUN 00:00 – 23:59
Recommended Time to Visit: All Day , especially sunset time for photography enthusiast
Accessibility Note: Easy access
View of Victoria Harbour is perhaps every bit of Hong Kong you expect from a travel book. We don't need to pull out any survey, the Victoria Habour has got to be one of the most beautiful, if not THE most beautiful skylines in the world.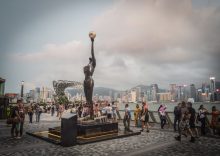 Performed at the Victoria Harbour, A Symphony of the lights show (at 8pm next to the harbour) is recognized as the world's "Largest Permanent Light and Sound Show" by the Guinness Book of Records. As a Hong Konger however, we don't really care because none of our local friends remember when was the last time they watch the show… 🙂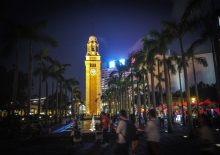 ANYWAY! We have a few suggested locations to enjoy the Victoria Harbour view, with or without the light show:
Terrace near the Clock Tower at Tsim Sha Tsui side is an obvious choice, you can have a long walk along the harbour and enjoy every bit of it.
If you would like to view BOTH sides of the harbour at the same time, it would be better to take a harbour tour/cruise, or the Star Ferry which is better, across the harbour.
Rooftop bars such as OZONE (at ICC), Felix (at Peninsula Hotel), Aqua (at Peking No.1) are also good places to chill and enjoy the scenery with a drink.
If you would like to have a top-down view, the Peak (another major attraction) or the Lion Rock (difficult hike) are both very good options.
We understand it is incredible to see the whole skyline lit up with neon light at night, but it is the same as beautiful to see these modern architectures in daylight, so the best option is: why not both? If you are going to Tsim Sha Tsui, you may also visit the Clock Tower and Heritage 1881, these are heritage that used to be part of the train station and headquarters for marine police. Avenue of Stars is also a stone throw away.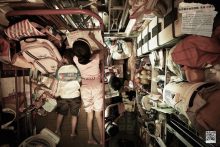 While you enjoy and amazed by the prosperity of Hong Kong, please don't forget the bitter truth: Hong Kong is currently ranked the ninth most unequal economy in the world, worse than places like Colombia and Guatemala (Link). This a structural inequality by design as a result of the capitalistic system & its reliance in housing market. Our Kowloon Free Tour explains this issue in detail and brings you to visit a subdivided unit/caged home. This tour shows you how unreachable this prosperity is to 1.5 million (20%) population here.
Tsim Sha Tsui is a very touristy district full of luxury fashions like Louis Vuitton, Prada etc. As a result, locals have stopped coming here for shopping long time ago. For shopping local fashion at a good price, we recommend Kwai Chung Plaza in Kwai Fong, Argyle Centre in Mong Kok, Kwun Tong Industrial district, or Laforet in Causeway Bay.
#victoriaharbour #avenueofstars #skyscrapers #tsimshatsui #hongkongtravel #hktravel #explorehongkong #explorehk #discoverhongkong #discoverhk #ilovehongkong #ilovehk #visualhongkong #instagrammable