THEME INTRODUCTION
In a city of seven million lives, each with its own unique story, how often do we, as Hong Kongers, pay attention to those around us and listen to their stories? We believe that every corner of society holds precious cultural treasures, and our aim is to guide you in personally meeting and conversing with individuals from diverse groups, listening to their unique Hong Kong narratives.
We will explore the streets and alleys of Hong Kong communities, acquiring firsthand knowledge and understanding of various social integration issues, such as ethnic diversity and income inequality. Our hope is that more Hong Kong residents can hear the voices of these 'minorities.'
SOCIAL INCLUSION TOURS
Explore our guided tour itinerary below by clicking on the image and learn more about what our tour has to offer!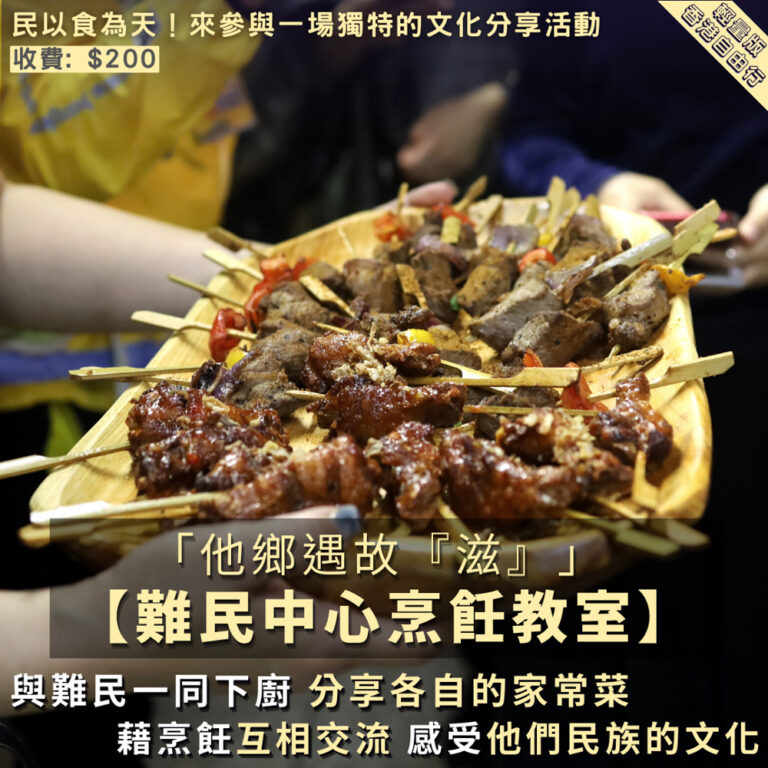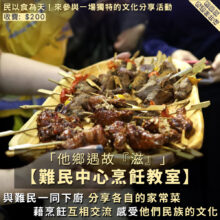 Hong Kong is renowned as a "food paradise" with a rich culinary legacy. However, sometimes a home-cooked meal can be just as gratifying as the finest delicacies. Hong Kong features an array of cooking classes, ranging from baking to specific cuisine workshops. Have you ever considered taking part in a cooking class that enables you to share foreign food cultures with refugees and asylum seekers in Hong Kong?
Join us for this unique activity where we will visit Chungking Mansion to purchase ingredients and learn how to prepare the refugees' ethnic dishes. We will also have the chance to listen to their cultural stories and the significance behind each dish. Come and join us for an unforgettable evening of cultural exchange, where we can share the joy of delectable food together.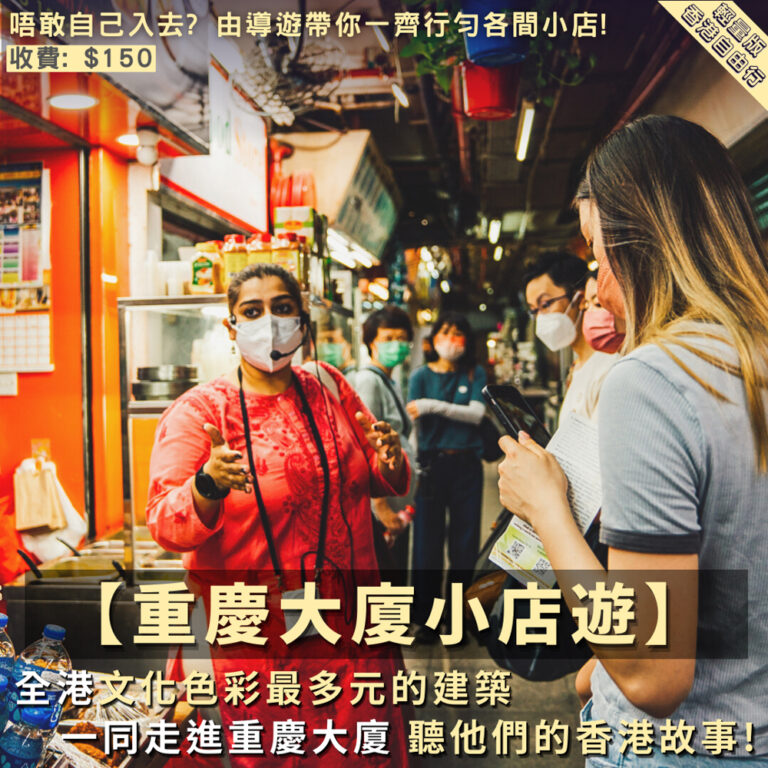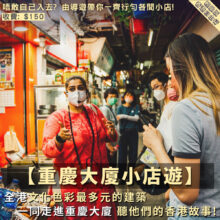 Although Chungking Mansion is a familiar name for many Hong Kong locals, not everyone has ventured inside. Some may feel hesitant due to its past reputation for being "dangerous" and the gathering of people from diverse ethnicities.
However, in recent years, media has begun highlighting the shops and stores in Chungking Mansion, such as the best currency exchange rates in Hong Kong and the most authentic exotic restaurants, gradually shaping a positive image for this unique building.
If you are interested in exploring Chungking Mansion but lack the confidence to enter alone, we invite you to join our Chungking Mansion Tour! We will guide you to visit various shops, experience their ethnic cultures, and chat with the owners to learn more about their "Hong Kong stories".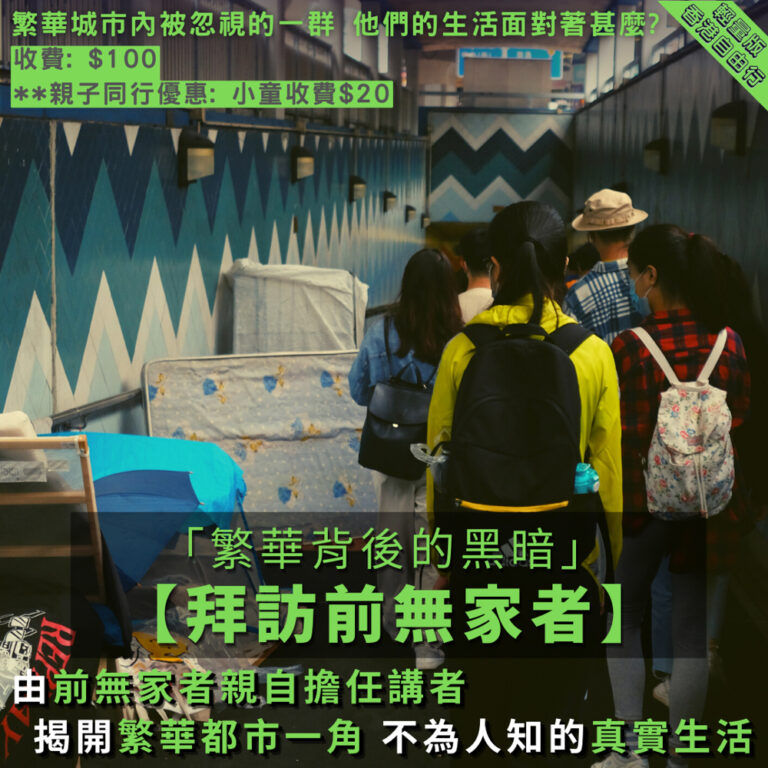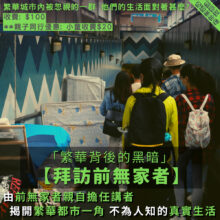 The homeless are often a neglected group in society. They face hardships and challenges that are unimaginable to many and are rarely understood by others. We have invited a formerly homeless individual who has successfully reintegrated into society to guide us through Tai Kok Tsui, showing us the real living conditions of the homeless. Additionally, we will visit the speaker's home – a subdivided unit – to see the living conditions of vulnerable communities.
Their stories are often overlooked, but they have always been a part of this city. As a 'Hong Konger,' would you be willing to explore with us the other side of Hong Kong, and acknowledge the 'darkness behind prosperity' together?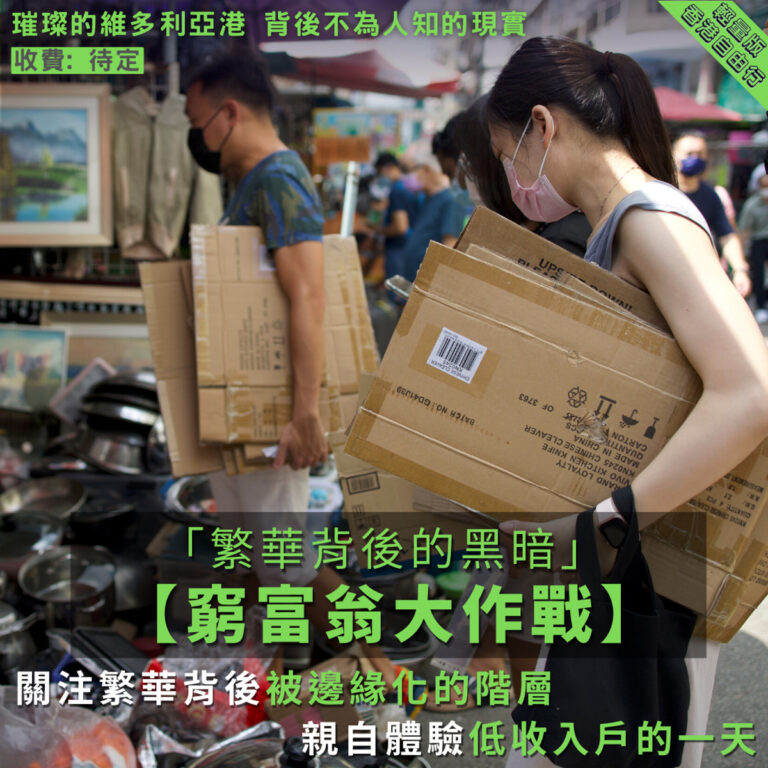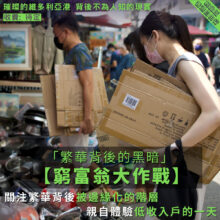 Standing on the Tsim Sha Tsui promenade, tourists are deeply fascinated by the bustling and glamorous Victoria Harbour. Hong Kong not only boasts the most stunning night view in the world but also ranks among the top in per capita wealth and income. However, have you ever thought about the forces that shaped the glittering Victoria Harbour?
Join us on a guided tour as we explore the intersection of the old and new in Sham Shui Po, a district that reveals the challenges faced by those living below the poverty line amidst high land prices and living costs. Through our journey, we'll gain insights into the consequences of Hong Kong's economic development and the struggles of its citizens to adapt to changing times.
RESERVATION INFORMATION
Public Reservation:
To reserve a spot, simply click the "Book Now" button located at the bottom right corner of the screen and register directly through WhatsApp. In your message, kindly include:
The name of the tour you wish to join;
The number of attendees;
The desired date of the tour. For the latest schedule updates, please visit our Instagram or Facebook page.
---
For school, institution, or private group reservations:
Please reach out to our team via WhatsApp at +852 9444 8472 when making your inquiry and kindly provide the following information:
The name of the tour you're interested in;
The estimated number of participants;
The expected duration of the tour;
The name of your school or institution.
---
Cancellation Policy: 50% handling fee will be applied if the cancellation occurs more than 8 days prior to your scheduled tour date. However, please note that if you cancel within a 7-day window of your selected date, we will be unable to provide a refund.