Name(English): Western District Public Cargo Working Area
Name(Chinese): 西區公眾貨物裝卸區
Address(English): 8 Fung Mat Road, Sai Wan, Hong Kong
Address(Chinese): 西環豐物道 8 號
Address Google Map Link: https://goo.gl/maps/woh7DbSRWddSmRMdA
Address longitude and latitude: 22.2894240921045, 114.13702354643044
Nearest MTR Station: HKU MTR Station exit B2
Nearest MTR Station Google Map Link: https://goo.gl/maps/3xURo8NBo3PxfoTj7
Nearest MTR Station longitude and latitude: 22.28206445407275, 114.15824813956729
How far from the nearest MTR Station: 10 mins from HKU MTR Station exit B2
Opening Hours:
MON 00:00 – 23:59
TUE 00:00 – 23:59
WED 00:00 – 23:59
THU 00:00 – 23:59
FRI 00:00 – 23:59
SAT 00:00 – 23:59
SUN 00:00 – 23:59
Recommended Time to Visit: Afternoon and before sunset
Accessibility Note: Not easy to access for wheelchair user
As of March 1st 2021, Instagram Pier is temporarily closed to public until further notice.
Instagram Pier, officially called the Western District Public Cargo Working Area, is originally a container terminal. It has become popular among Hong Kong youngsters starting in 2015 after the MTR subway stations were opened up in Sai Wan (Kennedy Town & HKU Stations). It is an attraction for photographers; meanwhile, local Hong Kongers also come to take pictures for their Instagram posts. You can see the clear Victoria Habour view from the pier. It has been getting more popular that even shots of local music videos and short films are taken here.
Indeed, Instagram Pier serves multiple purposes. Apart from taking Instagram pictures, people come here for sunset watching, jogs, dog walking, fishing, and skateboarding. It is not hard to see the locals jogging with their lovely dogs in the early morning and at evening. In the presence of the beautiful Victoria Habour view and the unique "setting" (i.e. freight and wooden cargo boxes), the dog owners will even do the photo-shooting with the dogs at the pier.
I believe as a visitor, you would love to know how to take the wow pictures as the other professional photographers the most. Here are two hints:
The Instagram Pier is turned into a good spot to go after rainstorm. Since the deep puddles will reflect the high-rise buildings to the north and the sea to the south and west, the second nickname of this attraction is "Mirror of the Sky". You just have to lower your camera to the level of the water on the ground, you will be able to take the photo with the reflective effect which includes both skyscrapers and habour.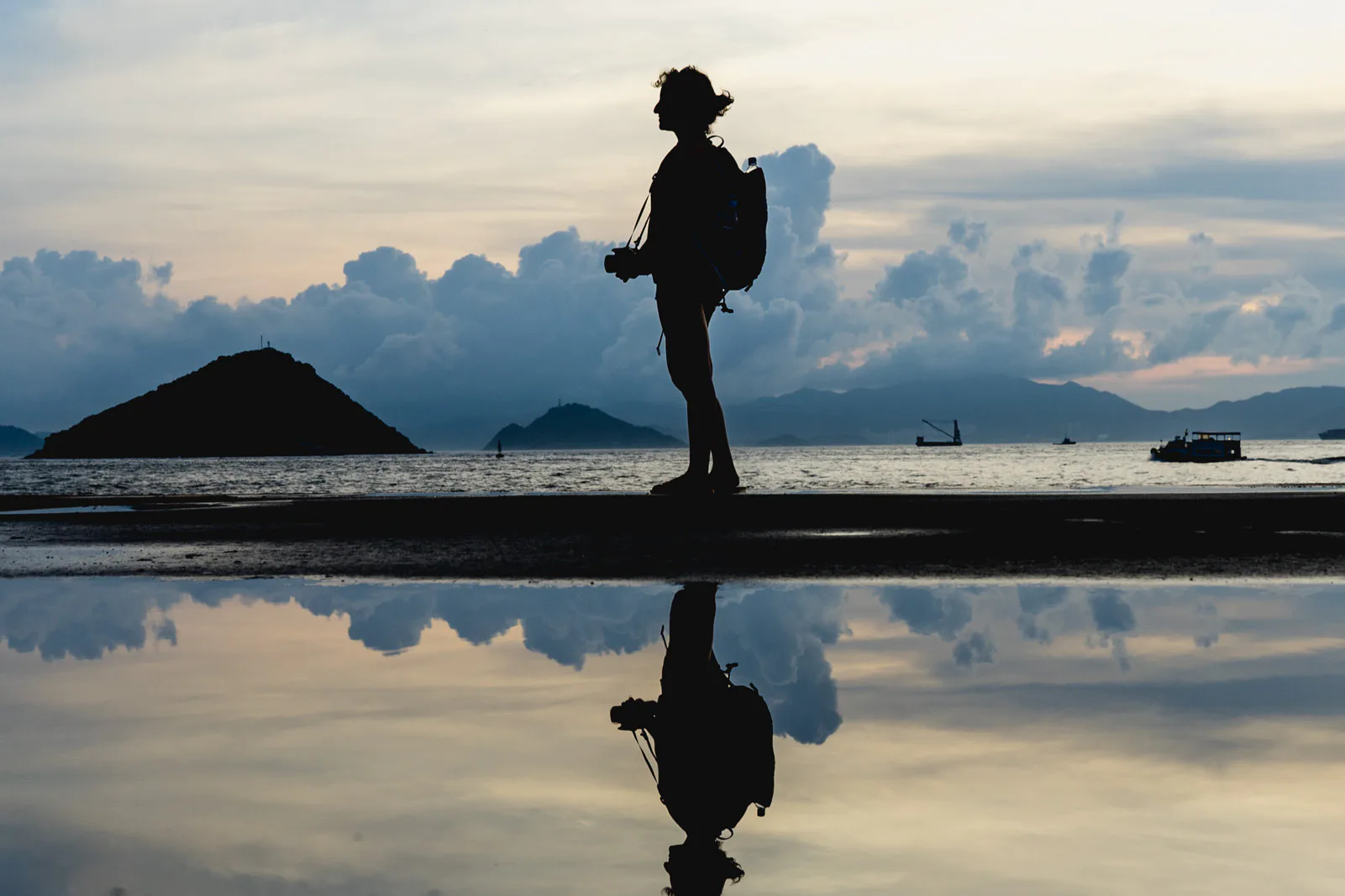 Pictures taken during the daytime and at the evening can be very different. You may want to decide when to go, according to your itinerary and the type of picture you would like to take. During the daytime, it is expected to do more photo-shooting with the "props", like the wooden cargo boxes, light pole and intermodal containers: while people always try to take pictures with the sunset at the evening.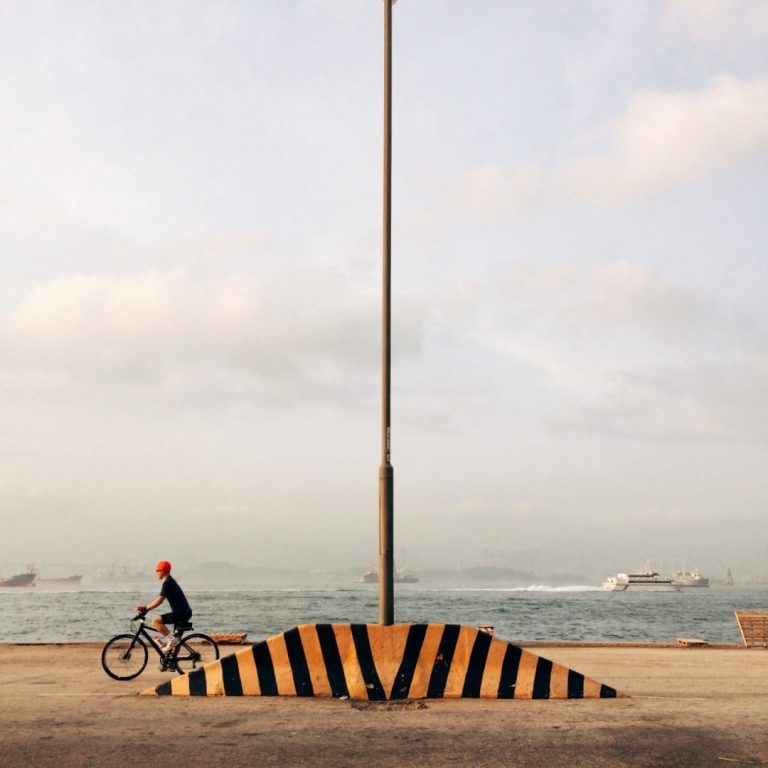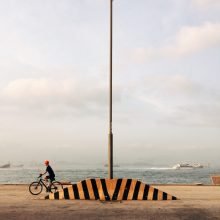 The Instagram Pier starts to get busy one hour before sunset every day. It is advised to go get a nice seat at the end of pier and wait for the sunset to come if you would like to enjoy the sunset or to take some nice photos with the sunset in the best position.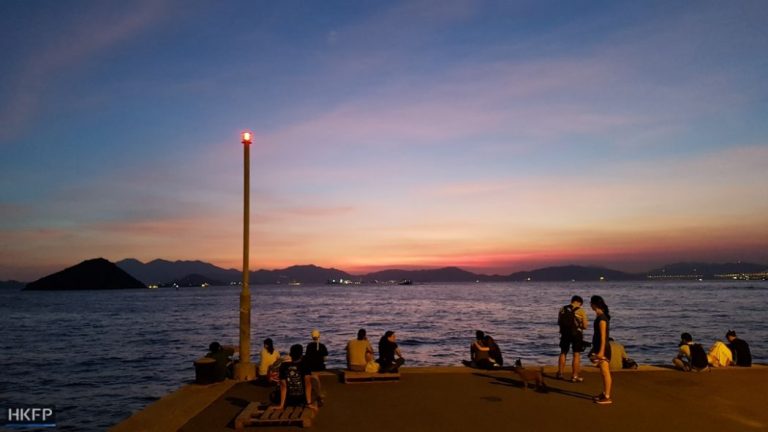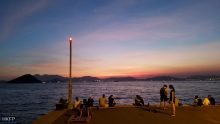 No matter what time you decide to go eventually, it is also vital to note the Sai Wan community is full of fun and interesting places to check out. You may put them into your plan before or after visiting the Instagram Pier.
Tuck Chong Sum Kee Bamboo Steamer Company which may give you a chance to see how the handcrafted bamboo steamers and other traditional Chinese kitchen utensils are made.
Sun Yat Sen Memorial Park that allows to relax and chill a bit with the fantastic view of the habour after walking for hours. You may also want to swim at their swimming pool there will the million-dollar view!
Yuan Is Here, a very well-known Taiwanese restaurant among locals
Ping Pong 129, a Chinese-Spanish bar with creative cocktails
Kind reminder: It is pretty windy and the temperature can drop dramatically at night. Don't risk yourself at catching the cold. There are still a lot to see after the pier! Therefore, please make sure you bring a jacket when visiting this beautiful and unique pier.
Do spare a day in Sai Wan to explore this lovely community in Hong Kong!
#instagrampier #skymirror #jogging #fishing #skateboarding #dogwalk #hongkongcargo #hongkongpier #hongkongsunset #saiwan #discoverhongkong #explorehongkong #visithongkong #hongkongtravel #ilovehongkong #hongkongtrip #instagrammable #hongkonginsta #instahk #visualhongkong #hkphotography #awesomehongkong #hkinstagam